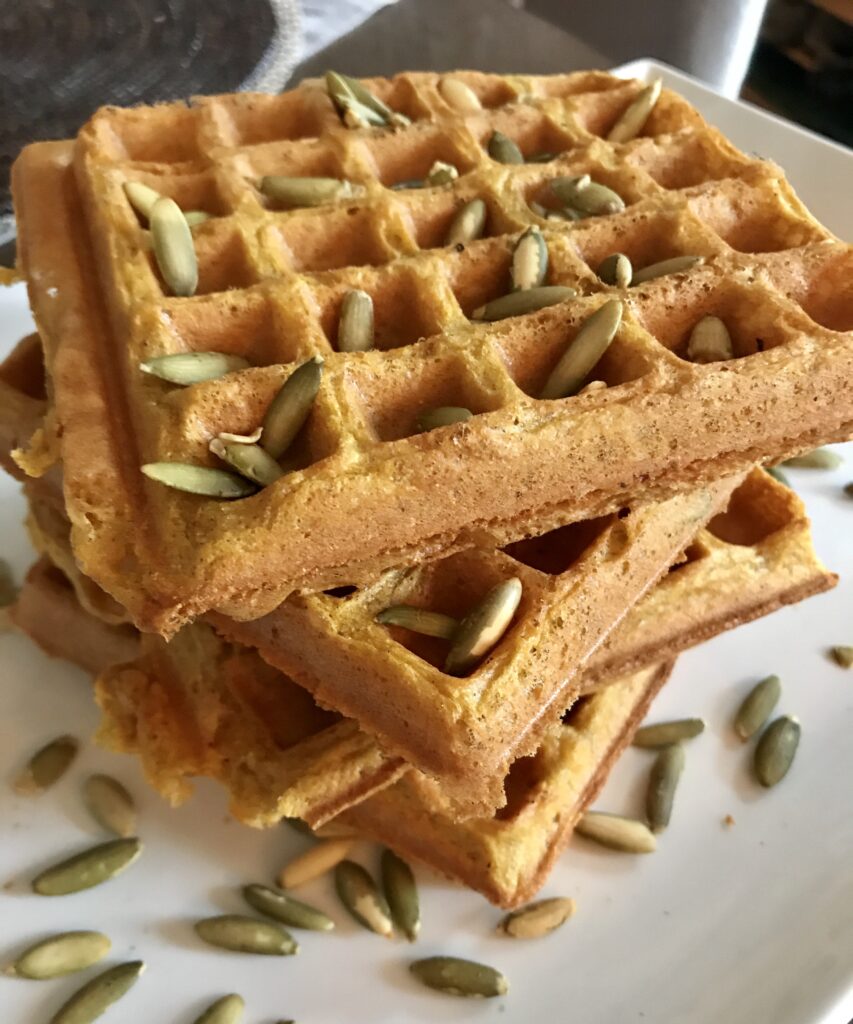 Whipping up an irresistible vegan waffle is a source of immense delight for me during the majority of weekends. However, these are no ordinary waffles; I'm referring to divotted treats that are beautifully crispy on the outside, soft and doughy on the inside, and remarkably free of oil, grains, and animal products.
These delectable creations hold a certain magic that captures the taste buds of everyone around me, be it friends or family. It's almost comical how impossible it is for anyone to stop at just one, or even two; their irresistible nature is a testament to their divine taste.
Diversity is the spice of life, and that applies perfectly to my vegan waffle-making escapades. To infuse an array of flavors, I love to introduce a medley of fruits into the batter. The delightful burst of blueberries, the mellow sweetness of bananas, and the tantalizing allure of strawberries – they all find their harmonious place in the batter, transforming each waffle into a symphony of tastes.
But why stop there? For a textured twist, I often sprinkle in a delightful assortment of nuts and seeds, adding both crunch and nutrition to every bite. And then there are the chocolate chips, because who can resist the timeless allure of rich, velvety chocolate?
The beauty of my vegan waffle masterpiece lies in its versatility. The base recipe is a flawless canvas, a foolproof foundation upon which a multitude of add-ins can be artfully placed. Regardless of the indulgent treasures I choose to incorporate, each waffle emerges from the iron with a resounding crispness that dances harmoniously with its innate deliciousness.
So, whether it's a weekend morning filled with the anticipation of creative culinary crafting or a gathering of friends hungry for an exquisite treat, my oil-free, grain-free, and vegan waffles stand ready to weave their magic, elevating taste buds and spirits alike.
BASIC VEGAN WAFFLE
1 cup finely ground almond flour
1 cup ground hazelnut flour
1 cup arrowroot flour or tapioca starch
1 Tbsp. + 1 tsp. baking powder
1 Scoop protein powder (Optional)
2 Tbsp. flax meal + 6 Tbsp. warm water
1 cup almond milk (May need more if adding protein powder. Add by the tablespoon after combining all ingredients if batter is too thick)
½ cup applesauce
2 tsp. apple cider vinegar
¼ cup maple syrup
1 tsp. vanilla
1 tsp. cinnamon
1 tsp. ground ginger
INSTRUCTIONS
Preheat waffle iron according to manufacturer's directions.
In a large bowl, combine the flours and starches, baking powder, cinnamon, ginger and protein powder. Whisk or stir to combine well.
In a small bowl, whisk together flax meal and warm water. Set aside until thick and egg-like.
In a small bowl or large measuring cup, combine the milk and apple cider vinegar. Allow to sit 10 min.
To the milk mixture, add flax meal, maple syrup, vanilla and applesauce. Whisk well to combine.
Stir batter just until combined. If batter seems too thick, add additional almond milk by the Tablespoon until achieving a thick, pourable consistency. Side note: here is where you can get creative. With the batter ready for the iron, add in various fruits (like blueberries) or shredded coconut, try some pumpkin seeds or chopped nuts, and don't forget the chocolate chips!
Using a ¼ cup scoop, pour batter onto preheated waffle iron and cook until golden brown.
These are so delicious you don't even need any more maple syrup! Simply enjoy as is.
Love how simple this recipe is? Then you'll also appreciate my recipe for creamy oil-free mayo!
For additional help and accountability with your diet, check out my nutrition coaching plan.