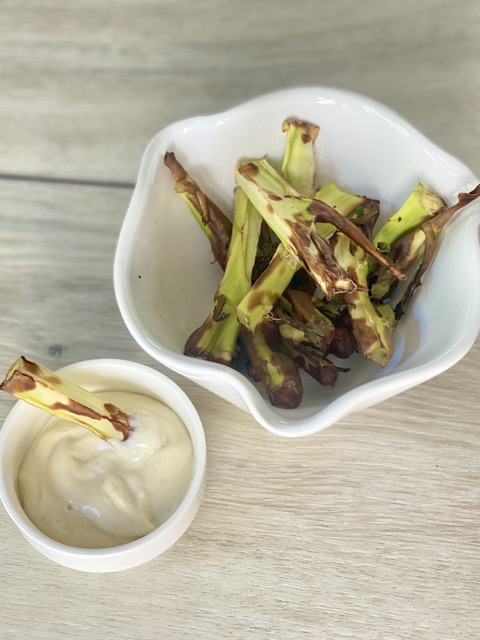 Save your bucks on the Hellmans and make your own easy vegan mayo/dip. In an era where the costs of groceries seem to be on a never-ending ascent, finding clever ways to save money without compromising on taste or nutrition has become a top priority for many. Like countless others, I've embarked on a journey to take more control over what lands on my plate and into my body. That's why I've turned my kitchen into a homemade haven, experimenting with dishes and condiments that not only align with my budget-conscious approach but also adhere to a cleaner, more health-conscious ingredient list. And let's not forget my personal mission to reduce my carbon footprint – I've become quite adept at utilizing every edible part of my ingredients to cut down on waste.
One recipe that has recently taken the spotlight in my culinary escapades is a homemade vegan mayo/dip that checks all the boxes. In just a matter of minutes, I'm able to whip up a batch of this creamy delight that not only tantalizes the taste buds but also respects my goal of minimizing oil content. Unlike store-bought options that often come loaded with preservatives and additives, this DIY mayo is a refreshing departure. Its simplicity in preparation and clean ingredient profile make it a true winner in my books.
What's even more remarkable is how this vegan mayo/dip pairs exquisitely with one of my newfound favorite snacks – air-fried broccoli stems. In a bid to utilize every edible part of my food items and steer clear of unnecessary waste, I've discovered the magic of these broccoli stems in the air fryer. With no need for oil, all it takes is a quick chop and a mere 14 minutes in the air fryer to transform these often-discarded gems into a crispy, guilt-free delight. When combined with the homemade vegan mayo/dip, the result is a match made in culinary heaven.
Furthermore, I've discovered that this vegan mayo serves as an exquisite dressing, seamlessly binding together a refreshing blend of cold cooked quinoa, finely shredded red and green cabbage, crisp broccoli florets, and diced carrots. A touch of paprika adds a delightful hint of warmth, while the introduction of "green salt," a recent gem in my culinary repertoire that ingeniously cuts down on sodium intake, elevates the dish even further. This ensemble forms an ideal, chilled meal that perfectly complements those sweltering summer evenings, embodying simplicity without sacrificing an ounce of taste or satisfaction.
As grocery budgets tighten and health-conscious living gains more traction, this vegan, oil-free mayo/dip has undoubtedly earned its rightful place as a staple in my fridge. Not only does it embody my commitment to crafting homemade goodness, but it also showcases that with a dash of creativity and a sprinkle of resourcefulness, we can savor delectable flavors without breaking the bank or compromising on our ideals. So, here's to embracing the kitchen as a hub of innovation, one budget-friendly and waste-conscious recipe at a time.
Creamy Oil-Free, Vegan Mayo/Dip Recipe
1.5 cups raw cashews
3/4 cup water
3 tablespoons fresh lemon juice
1 tablespoon apple cider vinegar
1/2 teaspoon sea salt
Gently pour all the listed ingredients into a high-powered blender, and blend until achieving a lusciously creamy consistency. If your blender lacks high power, a helpful tip is to soak the nuts in boiling water for 10 minutes, followed by draining, prior to blending.
For optimal freshness, store your oil-free mayo/dip in an airtight container within the refrigerator, where it can maintain its delectable flavors for up to a week.
Want to try more recipes? Keep watching for more posts but definitely try out my oil-free waffle recipe this weekend!
For additional help and accountability with your diet, check out my nutrition coaching plan.